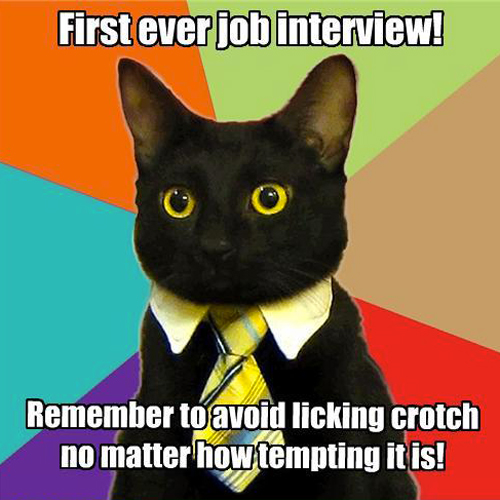 gem install job_interview
Ne perdez plus de temps pour vos entretiens de boulot
Aujourd'hui une gem du dimanche comme on les aime, juste pour se marrer quelques minutes ou à tester pour un boulot dont vous ne voulez pas !
require 'job_interview'

include JobInterview::Questions

# Q. Where do you see yourself in five years?
puts in_5_years
#=> "I'd like to have made someone else rich with my re-contextualized non-volatile open architecture."

# Q. Why are you leaving your current position?
puts leaving_current
#=> "I'm seeking to optimize extensible applications."

# Q. Why are manhole covers round?
puts manhole_cover
#=> "Because Reuleaux Triangles are hard to manufacture."

# Q. What is you greatest weakness?
puts greatest_weakness
#=> "I always fail so rarely so I make too much money."

# Q. Why do you want to work here?
puts why_here
#=> "Your company has revolutionized seamless next generation interface."

# Q. Does P = NP?
puts p_equals_np
#=> "I doubt it, but it would make life easier for traveling salesmen."

# Q. Please tell us, in a few words, about what interests you?
puts what_interest
#=> "I have a special interest in modular mobile startup platforms."

Vous l'aurez compris voilà des réponses aléatoires pour ces questions… Que l'on croise parfois !
Le lien inutile